I watched as a lion strode down the path.
He carried on top of him a black panther.
Attached, they were, fused together, belly to back.
The panther's atrophied legs flopped about.
I was not frightened, only horrified.
Eight years, I was told.
For eight years they had been bound together.
……………………..
I am the lion.  Fierce, beautiful, strong and loyal.
On my back rides cruelty.  The nine of swords.
Mental cruelty, which I have inflicted on myself.
Only the torch, the flaming staff, conquers the parasitic mind.
Only I can release the panther.
It will die without me.  So it must be.
As I can not live with it.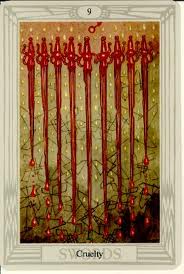 S. Conde