She was crying hysterically as she drove her car down I-75.  The tears blurred her vision, but she knew the way home.
Home.  "How could she go home in this state?"  She thought to herself, "I can't let the children see me like this."  …and her husband, he'd had more than enough of the misery.  He was of the opinion that she enjoyed the pain, otherwise why would she repeatedly subject herself to what everyone knew would be heartbreaking.
He was wrong of course.  She hated this, feeling like this.  It's that he was her son.  No amount of pain would ever keep her from him.
She reached into her purse on the passenger seat and grabbed the cell phone.  She would call her uncle.  He'd let her come over, she'd calm down then go home.
The idea itself grounded her, a bit.  "Hi…no, I'm fine…do you mind if I pass by?  I can't go home like this.  Yes.  I saw him, it was awful.  Ok.  Ok, I'll be careful.  See you in a minute."
She hung up and took the exit, one past hers, to his house.
Her uncle was seated on the bed with his back against the headboard.  It was the most comfortable position for him.  He was a huge man.  6″5″ and muscle bound, at least he was, back in the day…  Even now, minus the leg he'd lost some time ago, he was a physically formidable figure.
His manner was gruff, he spoke his mind and didn't care who he offended.  He drank too much on occasion and was apt to tease you mercilessly, but only if you let him know it bothered you.  Stand up to him, give him a little of his own back, and he'd be a loyal friend forever.  People either loved and respected him or hated him, no one after meeting him was left with a feeling of indifference.  His house was the last place you'd go seeking sympathy.  Luckily, sympathy was not what she sought.
She kissed him on the cheek, then plopped down at the foot of his bed.  She stopped crying by now but her eyes were nearly swollen shut.  She looked at him through the red rimmed slits and forced a smile.
"Hi baby.  You want a glass of wine?", he asked.  She shook her head yes.  "Go get a glass from the kitchen."
She found a juice glass quickly and returned to her spot on the bed.  "Jesus, I do have wine glasses you know."  She smiled at him.  "I know."  He took the bottle of wine from his nightstand and filled her glass with red.  "Thanks", she said and eagerly took a sip.
"So what the hell is going on?", he demanded, though he knew both the answer and the back story.  He'd been divorced himself, he knew the havoc it caused, especially when children were involved.
"I feel like a boxer, you know?  …and I'm getting my ass kicked.  They knock me down and I get up, they knock me down again and I get up.  I'm still getting up, but I'm struggling.  I don't know how many more rounds I can go…"
He nodded his head, and offered her a cigarette.  She took one, lit it and handed the lighter and pack back to him.  He lit one himself, and took a long drag, before replying,  "Yeah, I know."
"…did I ever tell you about the time I tried out for the Green Beret?", he said as he put the ashtray down on the bed between them.
He'd told her plenty of stories over the years, and taught her a million lessons too.  His lessons would be considered harsh by today's standards, even then many thought they were too rough, but they stuck.
When she was about seven he asked her if she knew how to play poker.  "No", came the obvious answer.  "Well, you wanna learn?", he asked her.  She was excited to play a game with her uncle, of course she did.
"Ok", he said,  "…how much money you got?" "I don't have any money.", she answered.  "What else you got?  I see you have a ton of those stuffed animals, go get 'em."  She scurried off, excitedly collecting all the fluffy creatures her arms could carry.  They sat down on the floor of the living room and the "poker" lesson began.  Within minutes, he'd won them all, and she was crying. Of course he gave them back, after some feigned argument about how they were rightfully his as he'd won them "fair and square".
She never gambled again, even as an adult she detested the idea.  He was a genius in his way.  …too bad he didn't have a lesson about smoking, she thought as she took another drag off the cigarette.
"No, you never told me the Green Beret story."
He smiled and had a sip of wine.  "Well when we left the FBI, me and Jim decided to try out for the Green Beret.  They told us to meet them at this track, you know, to test us physically."  She nodded.  "First we had to knock out a hundred squats, then run a mile."
"Well, you know me, I had to show off, you know, show 'em how tough I was, so I killed those squats.  I finished while Jim was still at it and took off to run the mile."
She smiled at him with familial pride.  "Huh!", he laughed, "…the joke was on me."
"I did the squats so fast I could barely walk let alone run.  My legs were rubber.  I'd run a few feet, then fall down.  The CO would come up next to me and start yelling, like they do, about what a piece of shit I was, how I should just give up now…", he smiled.
"I'd get up, run a little more, then my legs would give out again, and here'd come the CO, screaming in my face, trying to make me quit.  By now Jim had finished his squats and ran past me."
"…to make a long story short, I finished the mile, but with the worst time I'd ever done."
She pulled a sympathetic face, and he grinned at her.
"A couple of weeks go by and we don't hear anything back from them.  Finally I get a call."
"We'd like to invite you to join the Green Beret, they said. Now, I knew they hadn't called Jim.  So I asked them, what about Jim?  They said they wouldn't be extending him the same invitation. I asked why me?  Jim had done so much better and my time was terrible."
"The guy on the phone told me, We can teach you how to do squats, but we can't teach you how to get up."
"We're kin baby.  You know what to do, and you're doing it.  Just keep getting up."
Lesson number one million and one.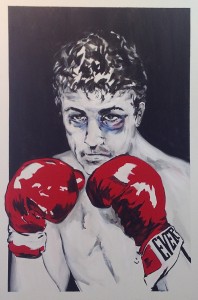 S. Conde